The Octagon Team
Our Agents
Kendal Baker, a native of Hoosick Falls, has been working in real estate since 2003, after returning to the area from the Philippines, where he was active in investment banking and financial advisory work. Prior to his work in the Philippines, Kendal was a corporate lending officer for the Chicago office of an international bank.
Kendal was a risk management officer for several years in the head office of a Munich-based bank.
He holds a B.S. from SUNY Albany and an M.B.A. from Columbia University. Kendal enjoys working with clients towards the successful sale or purchase of their home.
Marge Marker began her real estate career in 1972, when as a housewife and Mother of five young children, she thought of real estate as a "part-time" venture.
Much to her surprise, she took to the business like a "duck to water" and became a very dedicated and knowledgeable realtor. Her specialty was and still is meeting and helping to fill peoples' needs.
Along the way, she convinced her "farmer" husband Richard to join and use his extensive knowledge of land use and country properties. Together they established "Marker's Octagon Realty", the well-known business that is owned today by Kendal Baker.

Marilyn Douglas, has been selling residential real estate in the Capital District since 2003, and represents buyers, sellers, and developers. Retiring in 2008 from teaching high school for three decades, she sold over a Million Dollars of real estate in 2011 and 2012. Providing great customer service has been the cornerstone of Marilyn's professional career; and hard work, accessibility and accountability are her guiding principles. Marilyn recently earned the National Association of Realtors' e-Pro Certification.
With an educational background in business and computers, Marilyn uses her advanced research skills to do everything from identifying market patterns to determining the best price for a property. She has extensive knowledge of the area, and her government experience at the Village, Town and County levels provide an extensive skill set of land use laws, zoning, and agriculture districts that will assist you with your real estate needs and questions. While real estate remains her full-time career, she finds time to advocate for children, families and the Arts through her volunteer work.
If you are looking to buy or sell a home or would just like more information, feel free to call or Email me. Also, if I can assist you in other areas other than housing, please give me a call.
Peter Church knows the local area well. He was born and raised in Petersburgh and has lived in Hoosick for the last 17 years.
Peter graduated from Hoosick Falls Central School. He then attended and received his B.S. in accounting from the State University of New York at Albany. His first career (25 years) was in banking. He started locally at Taconic Valley Bank (now part of Bank of America) in Berlin, NY. After working in Albany for a number of years,he returned to the Berlin office as Banking Center Manager.
Peter belongs to the Town of Hoosick Lions Club, where he recently served as president. He also plays french horn in the Hoosick Falls Community Band, a group of local musicians which plays summer band concerts in the park.

Robert L. Rubin
Licensed Real Estate Associate-Broker
Bob, a graduate of Pratt Institute, where he met his wife Helane, spent many years in the Big Apple as an award winning freelance graphic & exhibition designer, serving the marketing and promotional needs of some of America's Fortune 500 companies, before making the move to Cherry Plain, New York. For the last 3-decades he has incorporated this expertise into the listing and selling of rural properties in Rensselaer, Columbia and Washington counties. Feel free to call Bob for any of your real estate needs or to answer any questions you may have about this increasingly complex process.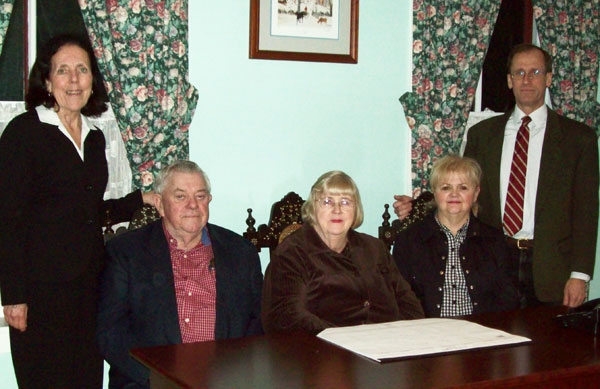 Front: Richard Marker, Marge Marker, Diane Hynick Back: Marilyn Douglas, Kendal Baker
Diana Hynick----Real estate is a fun job, and I always look forward to serving clients with the latest information for their housing needs. By continuing education on a regular basis, I am able to apply the very best options whether you are buying or selling.
I am familiar with the area since I graduated from Hoosick Falls Central. My husband, Glenn, and I have 4 grown children living between Argyle, N.Y. and Atlanta, Georgia.
Come by and check out some of our real estate. We are a friendly bunch of people! Looking forward to meeting you. Diana

Christian Marsh is a native of Hoosick Falls. He graduated from HFCS in 1984. Upon returning from college Christian started working in education as a teacher 1993. He currently teaches English at Hoosick Falls Central School (HFCS) and is also volunteer varsity wrestling coach. Before teaching at HFCS, Christian taught Alternative Education at Mt. Anthony Middle School in Bennington, Vermont and English at St. Mary's Academy in Hoosick Falls.
Christian spends much of his free time serving the local community where he holds a number of positions. He is a member of the St. Stanislaw Society and the Hoosick Falls Lions club where he works closely on a program which helps local children receive eyeglasses and eye exams. He is also the Hoosick Falls Teachers Union Treasurer and NYWAY Capital Region wrestling treasurer. He received his Bachelors degree in Education from SUNY New Paltz and his Master's degree in Education and Reading at SUNY Albany.
Christian has been in the real estate business since 2006. His knowledge of the school districts and communities has severed him well in the real estate business. Whether you are buying or selling Christian's knowledge of the capital district schools and communities will make your new purchase or relocation a much easier process.

Helane A. Rubin
Licensed Real Estate Salesperson
Born and raised in Brooklyn, New York, Helane met her husband Bob while an art student at Pratt Institute. After settling in New Jersey, Helane raised a family and established a successful catering business, eventually moving to Cherry Plain 32-years ago. Helane, for the last 22-years, has been putting all her "people skills" to work as a real estate licensee, now a member of the sales team at Marker's Octagon Realty. With a strong knowledge of country properties, and a desire to find you the perfect home, Helane is ready & able to "cook up" a real estate specialty for you and the family.